While the global COVID-19 crisis may have impacted industry research somewhat, Saudi Arabia is predicted to be on track for an estimated 5% growth in the insurance market over the next 5 years. This is a turnaround following a dip of 4% in premiums over the period 2016 – 2018. And as the world recovers from this pandemic, insurers that invest in digital and analytics capabilities are the ones who will become more customer-centric, user friendly, data driven and competitive.
Regulatory changes and reforms are the essential forces reshaping the insurance sector in Saudi Arabia. For example, it is mandatory for every citizen, expat, and tourist in the Kingdom to be covered by health insurance. It therefore comes as no surprise that the health insurance market is expected to reach US$7.65 billion by 2025, with a CAGR of 5.04% over this period. Also boosting the insurance sector's expected growth is the number of women drivers is expected to grow by 3 million this year alone. Yet perhaps the most significant driving force behind the insurance market's fortunes is the Kingdom's 2030 vision – with more than 5,000 capital projects as well as job creation and a proactive focus on tourism.
With SAMA continuing to roll out regulatory changes the prospects for new insurance products and providers to enter the Saudi Arabian market have never been more exciting. Insurance companies will have more opportunities to reach a larger customer base. Equally, they must also expect to be operating in an increasingly competitive playing field.
Qarar has a gained well-earned reputation in the region in advanced analytics and credit risk management and we are well-poised to assist insurance companies in growing their market share. Strategic investment in comprehensive digital and analytics capabilities will help develop a more detailed understanding of their clients and determine the best ways to serve them. With this robust platform in place the next phase must be focused on embedding resilience, flexibility, and re-imagining insurance for the next normal.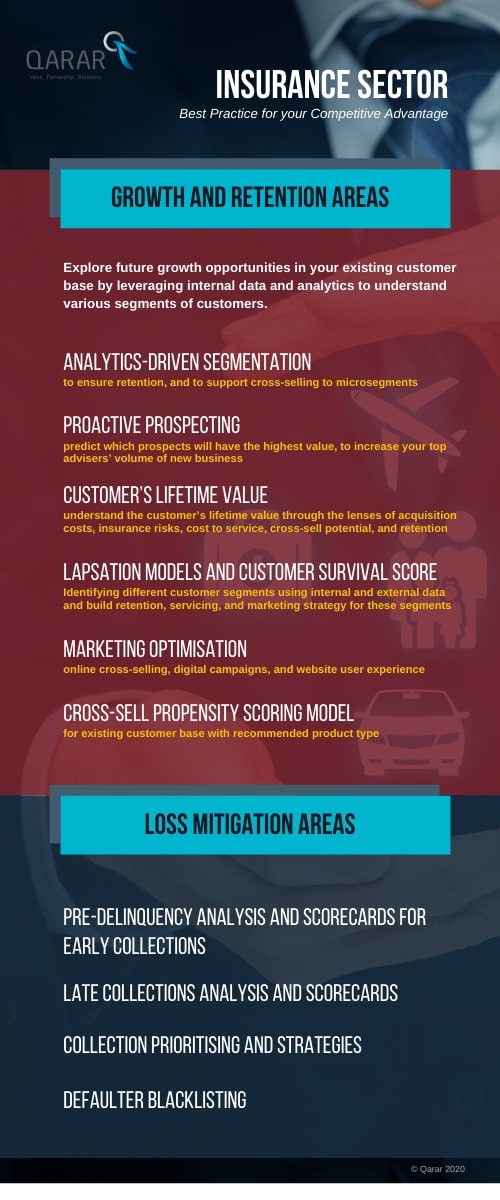 Qarar works in close synergy with our parent company, The Saudi Credit Information Company (SIMAH), providing solutions that create seamless integration and access to bureau data, which enriches and optimises the analytics framework. Together, we deliver analytics solutions across the entire customer lifecycle.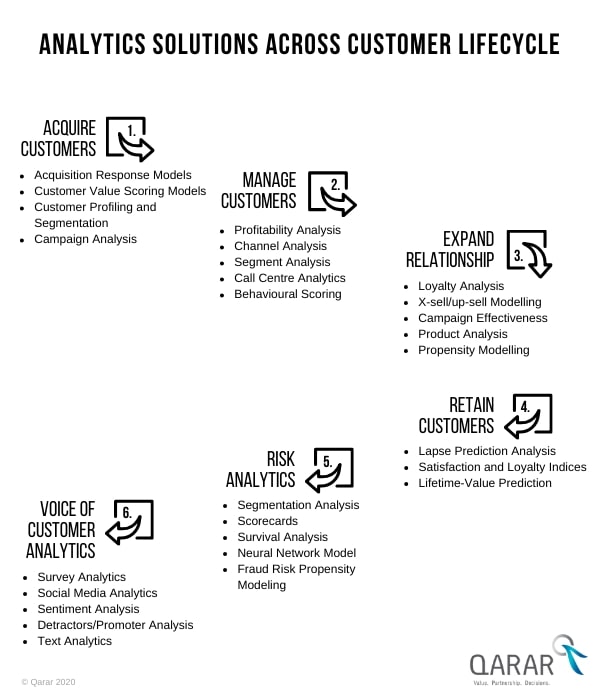 Research Sources: Mordor Intelligence, IMARC Group and Alpen Capital