Model Risk was traditionally embedded within the risk management regulations that the Central Bank of the United Arab Emirates (CBUAE) released back in 20181. Nowadays, as models are being used in more areas of a banks activities, whether it be for credit decisioning or capital requirements, the impacts that these models can have — both positive and negative — has also increased tenfold. Therefore, the CBUAE has decided that now is the time for model risk to have its own dedicated regulations, together with standard risk management regulations.
What are regulations released by the Central Bank of the UAE?
The regulations are split into two parts — 1. Model Management Standards (MMS) and 2. Model Management Guidance (MMG):
The MMS outline general standards applicable to all models and constitute minimum requirements that must be met by UAE banks.
The MMG expands on technical aspects that are expected to be implemented by UAE banks for certain types of models. While this MMG neither constitutes additional legislation or regulation nor replaces or supersedes any legal or regulatory requirements or statutory obligations, deviations from the MMG should be clearly justified and will be subject to CBUAE supervisory review.
For easy reference, we have provided links to the CBUAE regulations at the end of this blog.
With the creation of new dedicated model management practices and regulations, the CBUAE are aiming to solve 3 main problems:
Ensure that models employed by UAE banks meet quality standards to adequately support decision-making and reduce model risk.
Improve the homogeneity of model management across UAE banks.
Mitigate the risk of potential underestimation of provisions and capital across UAE banks.
The new regulations also bring the CBUAE in line with similar regulatory bodies across the world, ensuring homogeneity. One of the main factors that banks consider when expanding across geographical boundaries is the different regulations in place in each territory. In most cases, this can hinder international expansion due to the vastly differing regulations that need to be adhered to. Therefore, by harmonising model risk management in the UAE with other countries, this reduces the barriers the UAE banks face when expanding internationally. In addition, it also makes it easier for international banks to enter the UAE market.
What do banks and lenders in the UAE need to do with these new regulations?
The CBUAE is expecting every licensed bank and Islamic institution to carry out the following: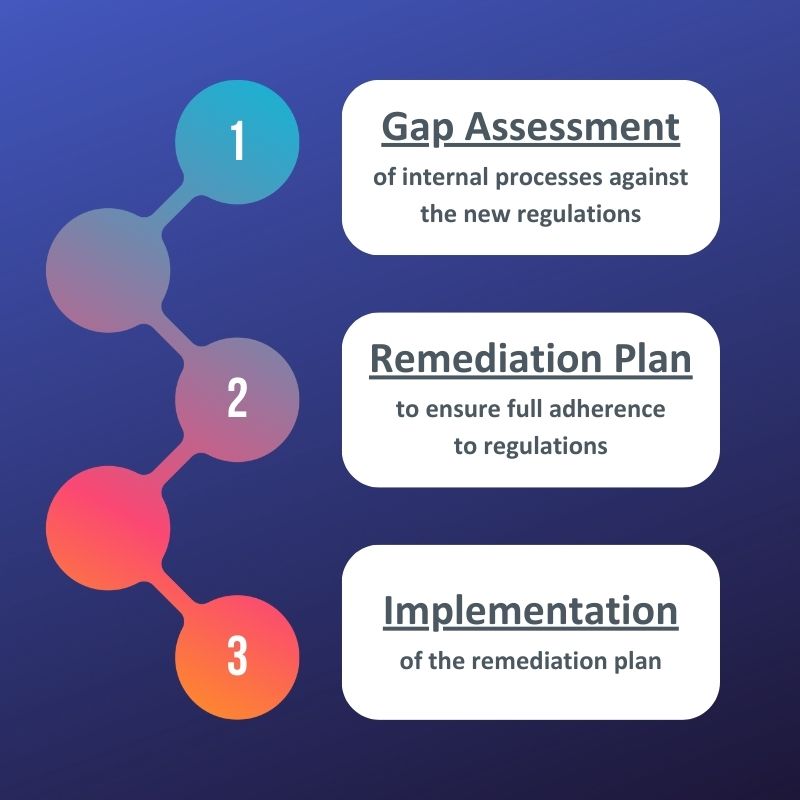 The initial concerns are that banks have to take the following actions — and in a very short space of time:
Thoroughly read through and understand the new regulations.
Carry out a full internal audit of the model management structure, personnel, and processes in order to create a gap assessment — in comparison to the 500+ new regulations.
Create a detailed remediation plan to remove gaps.
Carry out the remediation plan, which could include various remediations such as organisational restructures, hiring of senior management and/or experienced technical staff, and writing or re-writing of internal risk frameworks.
What are the pros and cons of these new regulations?
The regulations are strictly mandatory for any institution in the UAE. In fact, non-compliance with any of the steps detailed above can lead to fines, increased regulatory scrutiny, and — in the worst cases — restrictions on future growth and lending.
However, there are many positive benefits as well. The new regulations aim to provide a harmonised approach to model development and deployment, which should make banks' internal processes more efficient — especially where these processes are owned by various teams and can often be disjointed. Therefore, this increased efficiency could save considerable costs that would usually be lost to inefficient time management practices. As well as increased internal harmonisation, the regulations largely follow similar regulations across the globe, allowing for banks to increase their international and global presence with minimal regulatory and compliance adaptations for each new market.
One key feature of the regulations is increased oversight of the entire model lifecycle by technically experienced personnel. The leadership, experience, and challenges brought by these staff members will ensure that models are created, deployed, and updated to the best of their ability, leading to better forecasting and discrimination. In turn, becoming fully compliant could help improve a bank's ability to manage losses and/or improve profitability.
How is Qarar positioned to help banks tackle the new regulations?
Qarar is in a unique position that it is one of the only risk consultancy companies with a local presence on the ground in the UAE. This allows Qarar to understand the regulations as they are intended for the UAE and the rest of the Middle East markets.
Qarar's locally based experts have combed through each of the 500+ policies to understand how they are intended to be interpreted within the UAE. We have now formulated the regulations in easy- to-understand snippets in order to create an audit and remediation plan for banks across the UAE to be able follow and respond to the CBUAE.
Qarar's relationship with the CBUAE allows banks to ensure that they are communicating with the regulator as the regulator would expect, and with the key information shared at the correct intervals. This ensures that a bank will not fall under increased regulatory pressures due to improper or late communication.
What can a bank expect from Qarar?
Qarar's expert consultancy can be as in-depth and comprehensive as a bank requires — whether basic general guidance or a bespoke approach. Qarar offers a broad array of expert services. Our full service allows the bank to continue its focus on key operational processes that have the most commercial impact to the bank.
conclude the gap assessment.
create the remediation plan.
carry out all communication with the regulator.
fully project manage the remediation plan to keep it on track.
Alternatively, the Qarar team can also look at individual snippets of the regulations to shed light on what is required and formulate a specific action plan. For example:
Do you need to create a new Data Management Framework (DMF)?
Qarar's experts can come in and devise this framework for you.
Is your model development a pain point within the organisation?
Qarar can come in and devise a new model development process — and even take over model development until your internal team grows and learns the necessary steps required to build better models.
Regulatory workstreams are always difficult to manage, and Qarar can be there to guide you through this difficult process. Contact us directly to set up an appointment with our Advisory team or to request more information about Qarar's Model Risk Management services and the UAE Central Bank regulations.
Contact Qarar
Tel: +971 4 375 9363
Email: smartsolutions@qarar.org
1 https://www.centralbank.ae/en/regulations/?Search=Model Management Standards
2 https://www.centralbank.ae/en/regulations/?Search=Model Management Guidance