SAMA (Saudi Central Bank) has been making great strides forward in regulating the lending sector throughout the Kingdom by focusing on responsible lending and promoting financial inclusion across all segments. This ground-breaking initiative has been the driving force behind the creation of SIMAH's (Saudi Credit Bureau) Affordability Service. The deadline is now looming, and SAMA has mandated that banks and financial institutions need to fully integrate with this service by 31st January 2022.
The Affordability Model is based on "Responsible Lending Principles for Individual Customers". Developed as an API by SIMAH in accordance with SAMA's directive and Qarar's expertise, the automated and secure model is based on unified standards that help lenders calculate a customer's monthly living expenses, as well as determine the possibility and extent of the customer's affordability of additional credit obligations (DBR). The calculations are collated in a comprehensive Affordability Report.
Let's explore how Qarar can assist with the integration process.
Being domain experts in the KSA regulatory and credit landscape, Qarar can assist clients in complying with these new SAMA regulations. To make the integration process seamless, we have updated our software to assist companies in quickly achieving compliance. The credit capacity of individual customers is at the crux of the Affordability service, and our solution directly connects banks and finance companies' originations to SIMAH via Qarar's proprietary BridgeSmart software interface. Qarar's software experts can rapidly integrate and incorporate general or bespoke needs. As with any engagement, our trusted advisors are always on hand to also assist institutions leverage Affordability and other data sources for better management decisions by advising on best-in-class decision strategies.
We offer the pre-configured BridgeSmart solution to members providing a choice of the 3 main types of Affordability calls with SIMAH.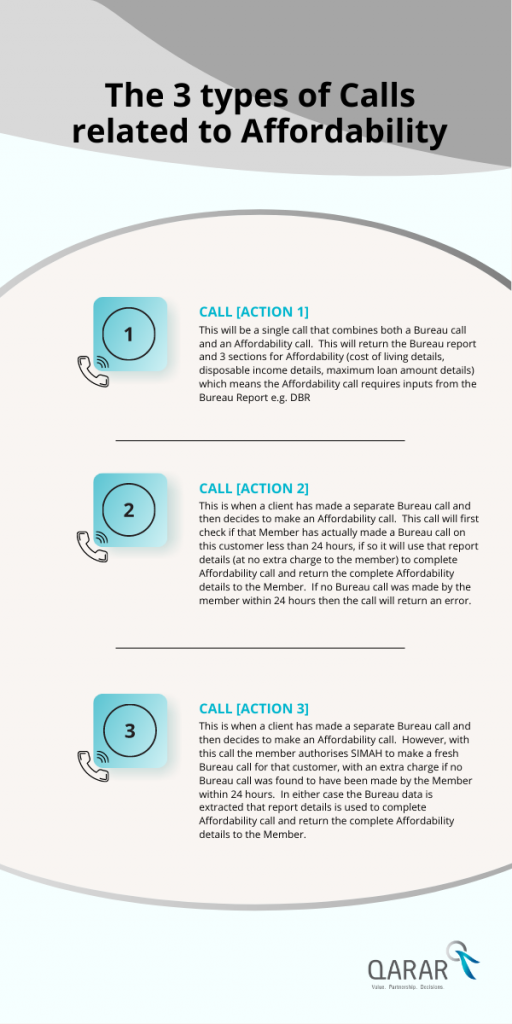 Integration through BridgeSmart will still need to be actioned — and that is where Qarar's expertise in field matching and professional advisory makes it a simple exercise. Clients will be able to use the general cache features of BridgeSmart, and also extend it to Affordability data that can be cached and reused, providing efficiency and future cost savings.
Our typical project timeline is less than one month — even as little as 2 weeks.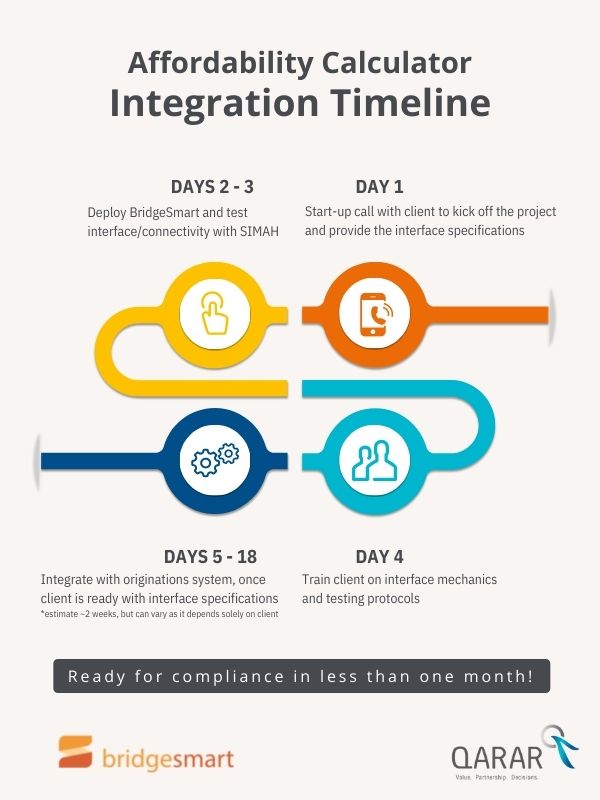 Please contact Tariq Beg, Saudi Arabia Country Manager to discuss how Qarar can assist you with SAMA compliance.

Email: t.beq@qarar.org
WhatsApp: +966 58 069 2623
Mobile: +971 58 592 8406