By Jarred Lloyd, Senior Associate Advisory Service Middle East
Marketing has been undergoing somewhat of an evolution. In years gone by it was just known simply as Marketing, but today it is largely referred to as Marketing Analytics. We now have access to large amounts of data and each element of data provides a vital piece of information that helps you better understand an existing client or a potential new client. However, while all this information is available there is a knowledge gap on how to make proper use of it. There is a lot of hype around big data but in reality the actual use and a business's ability to consume and leverage this information has become a difficult task.
Why is it important?
Marketeers and businesses today know and understand that a bulk SMS or email campaign will not cut it anymore, and to reach their audience they are required to be far more selective in what they are doing. They need to understand the customer journey and resonate with a client on multiple fronts. Marketeers must deal with many ever-growing channels and engage potential customers who are increasingly both tech and data savvy.
Marketing analytics is about leveraging insight from data to make marketing and business strategies more efficient, effective and profitable. This involves analysing and optimising all efforts so that time and money is not wasted and adjustments to campaigns and strategies can be made quickly and in near real-time if need be.
Advanced Analytics through Artificial Intelligence
To achieve this, departments are seeking and investing in the best advanced analytical services or are setting up teams who specialise in using advanced analytical techniques. Some of the best and newer tools use artificial intelligence (AI). AI is a collection of technologies that extract insights and patterns from large sets of data and then make predictions based on that information. AI is used to enhance marketing analytics and to help businesses better understand their customers, leading the way to delivering a great customer experience. AI will also provide insights on how one can be more effective in marketing.
What is Machine Learning?
Machine Learning is a subset of AI and involves building systems that can learn from data to identify patterns and predict future results with minimal human intervention. An example of AI used in business is determining the next best product or action for a customer. The computer learns from examples using either supervised or unsupervised approaches. Historical data with known outcomes is provided to the algorithms to train them and the output is then used against test data to determine how good the model is.
Marketing analytics builds on segmentation analysis to generate personalised, targeted offers that provide customers with what they need rather than blanketing offers across multiple customer segments with potentially irrelevant offers. Increasingly, businesses are accomplishing this using technology such as machine learning and automated decision management.
Marketing Analytics during Stressful Situations
In times of business difficulties or distress, Marketing Analytics together with AI can be used to ascertain the various ways customers are being affected, and using this information allows companies to engage with their customer on a far more meaningful and appropriate level.
An example of using machine learning is the next best action in Limit Management.
This could be to contact a client to assist with Limit Management. Most businesses use a risk-based approach crossed with income to determine a customer's limit for a card. However, using AI, one can optimise a client's card limit. Factors such as a client's pattern to spend daily, weekly or monthly could be used as a factor. In stressed times, machine learning gives us the ability to see how a client's behaviour has shifted from one day to the next day and an action and/or communication could be assigned near real-time to address this. Actions such as to contact a customer to ensure their card is functioning. Other actions could be to advise the client that their card limit during the stressed time could be increased or decreased depending on the situation and segmentation done by AI and once normality resumes reinstate the original limit.
There are many different scenarios that can be created and generated through Marketing Analytics and AI.
Product Recommendations
With machine learning, businesses can understand how small customer segments, microsegments, or even single customers will respond to an offer. Typically, a learning model is trained with historical behaviour. For example, how customers with similar characteristics responded to an offer. This model may then be integrated into the decision management technology that uses rules, such as to determine if a customer is eligible for a certain product, along with the model to provide the next best offer to the customer on the next interaction regardless of channel. A contact history is also maintained to understand how the customer might have already responded to a similar offer. The decision management tool can track how customers respond to offers and automatically adjust the offers accordingly.
Another example is Product Recommendations.
Product Recommendations is an example of how AI benefits marketers as it can determine which products to present to each customer at any given moment in time – with no human interaction needed. The AI technology can compile and analyse each individual customer's browsing behaviour and purchase history (if the data is available). From there, it would cross-reference that information with additional data pertaining to products a business holds to present the products that the customer is most likely to find appealing. Given that the AI would pick up shifts in behaviour during times of distress, product recommendations could include products that offer the same service but at a lower cost or could include some type of insurance depending on the client's particular circumstances. Trying to manually replicate this product recommendation, even for a single client, is near impossible given the time required to gather and analyse the content. Even if all the relevant data was available, segmented, and analysed, businesses simply do not have the time or resources to achieve product recommendations to a level of individual personalisation. However, with AI marketing technology, achieving personalised marketing is not only possible, but highly beneficial. In the given time, this might be used to recommend the correct product a client needs to successfully navigate and get through the current economic environment.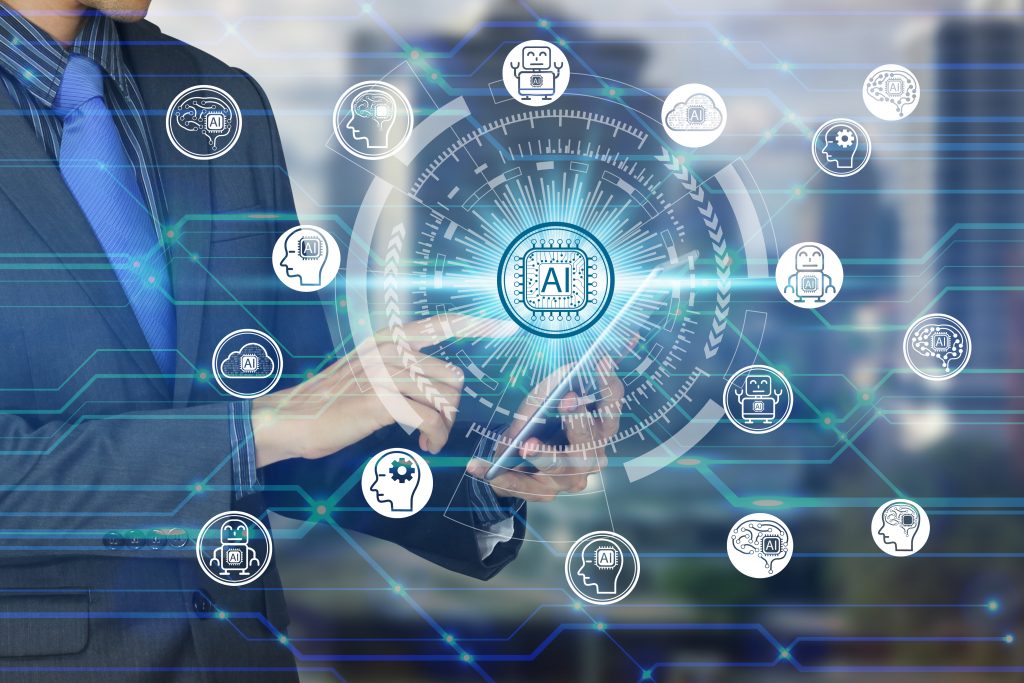 Next Steps: How can Qarar help?
Qarar is one of the leading advanced analytics and software companies in the Middle East and is at the forefront of implementing these technologies into many businesses.
Qarar has a team of highly skilled data scientists who have recently trained in some of the latest advanced analytics technologies. We also have a team of experienced experts covering the banking sector, credit risk, marketing analytics and many more areas. Qarar also has bespoke decisioning software that can integrate into any host system that allows for sophisticated and advanced decisioning.
Some Final Words
Artificial Intelligence (AI) is one of those concepts that is generally perceived as complicated, off-putting and perhaps a little scary to people, but it really does not have to be. AI is now readily available for marketing analytics and is rapidly becoming an integral piece of a marketer's role.
Applying Marketing Analytics with AI to business models can scale different scenarios near real time. Through AI, marketing strategies can be bespoke and can be updated and change through new data over time. It can play a critical role in business's ability to update existing processes without being limited by human speed and response. AI can reap great benefits for both customers and businesses.
Having these tools in place gives marketers and businesses more time to focus on overall marketing and strategies that meet their business objectives. For the retail market, it can mean more sales from their cross-sell and up-selling efforts, and results in customers who are more engaged and more satisfied with their highly personalised experiences.
As best-selling American author, Richard Bach, said: "Any powerful idea is absolutely fascinating and absolutely useless until we choose to use it."
So if data just remains in its raw format it is jumbled, useless and of little business value. Alternatively, it can be transformed into information and ultimately knowledge through Marketing Analytics and AI. To achieve real progress and sales growth, identifying patterns of behaviour and gaining detailed customer insights, knowledge is everything.