By Riaz Jassat, Chief Commercial Officer, Qarar
Collections — as defined in the banking and lending sector — is the process of obtaining monies owed by customers who have, for whatever reason, fallen outside of their contractual duties. Essentially the lender's collections function is driven by two core elements: 1. The data and 2. Talking to the customer – usually on the telephone or email, or sometimes face-to-face. The collections call strategy is designed in such a way to maintain good customer relations, while minimising bad debt losses, through the effective use of resources.
Successful collections strategies have always been driven by effective customer engagement. However, when we add in the factor of a global pandemic, we are dealing with a whole different ball game. We are witnessing many job losses worldwide, salary reductions, SMEs under huge pressure to stay afloat, and a general depression of our lifestyles, workstyles, cultures, and social interaction. Inevitably the consequences are far-reaching and are having a negative impact the collections process. This is where effective customer engagement is imperative.
Broadly speaking, customers WANT to pay, but circumstances (internal or external) generally dictate what and when they are most likely to pay. In these times of consumerism, most customers are over committed, have reduced income levels, and can only pay a limited number of creditors. The bank must be near the top of their customer's "who will I pay?" every month list. Customers who experience a 'bad' call from tele-collectors will naturally push these creditors towards the bottom of their "who will I pay?" hierarchy.
What are the key factor and steps that help create a win-win situation, building trust and rapport and trust with customers?
Optimising the time spent with a customer during the telephone call is paramount to effective collections, improved customer experience and increased customer lifetime value. Any human to human interaction is largely driven by emotions. For tele-collectors that means no judgement, no admonishment, do not make it personal — and always remember to listen.
Now here is the crux.
We are already seeing evidence of the various financial assistance schemes coming to an end. This is when the true impact of the pandemic and subsequent lockdown will start reflecting on customer behaviour. Right now – that means Q4 of 2020 – banks and lenders need to be taking action to implement critical strategies to optimise their collections activities. This is a critical period, bearing in mind that it is human-to-human interaction is the vital force in bringing collections activities to a satisfactory conclusion for all parties. In the future, we anticipate that chat bots will start to facilitate the collections interaction, but we are not there yet. There are many mountains to climb before jumping into the next generation of collections communications. What this pandemic has clearly shown us is the human factor — our individual and collective behaviour — is very much the driving force.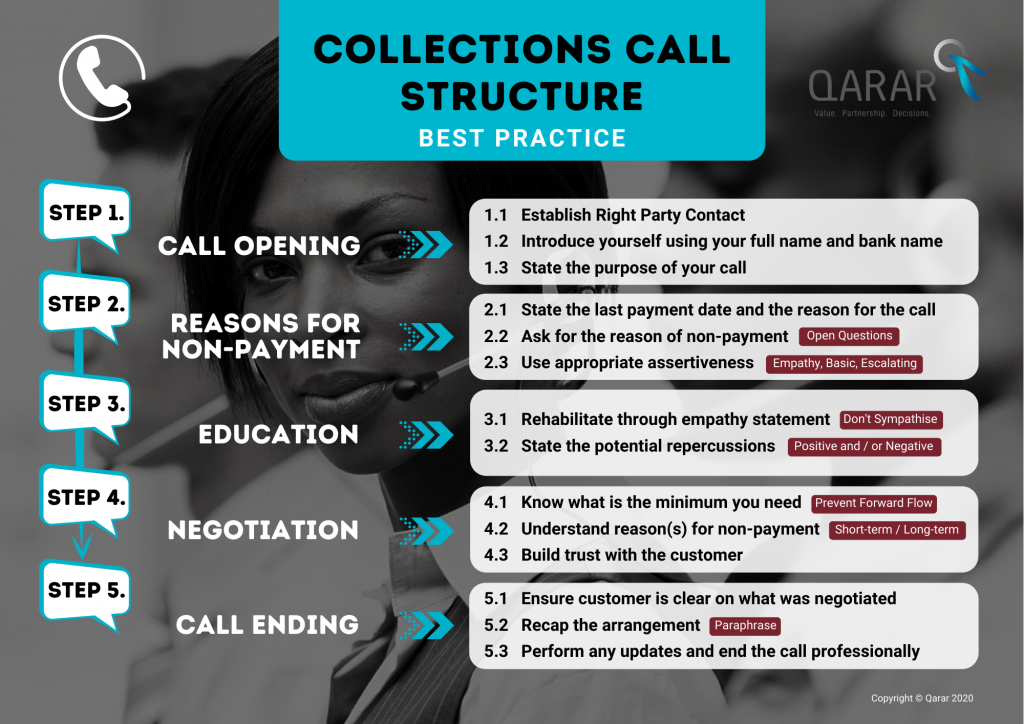 Qarar offers collections call training and workshops for the banking and financial industry. These workshops, if put into practice, will ensure that you get up the collections ladder and help you and the bank achieve a win-win situation.
Please contact us directly to set up a meeting or for more information.