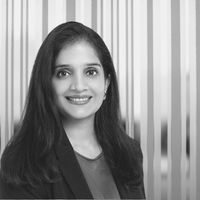 People and Culture at Qarar
by Jaya Anand, Head of HR and Admin, Qarar
Qarar was invited to enter the MEED Gulf Capital SME Awards 2021 — and our submissions were successful! We were subsequently shortlisted as a finalists in the SME B2B category and won 'Highly Commended' runner up place in the Cigna People and Culture of the Year award. In this article Jaya Anand, Head of HR and Admin reveals the best practice and innovative HR policies that help shape Qarar as a great place to work.
Being a compassionate human being in a rapidly changing techie world
Qarar is somewhere between a software company and a fintech.  In fact, we are the only regionally focused credit risk analytics company.  Everything is hosted in the cloud so it would be easy to forget we are people — with needs, emotions, and personal challenges, right? Not so with Qarar.  One of our core HR values is compassion and care.   Yes, there are deadlines to be met, but personal needs of the team, whether it be time off for a family situation, or a listening ear of support, Qarar prides itself on being a very caring SME company.   We are consciously aware that we are human beings who have human needs and managing work/life balance is inevitable.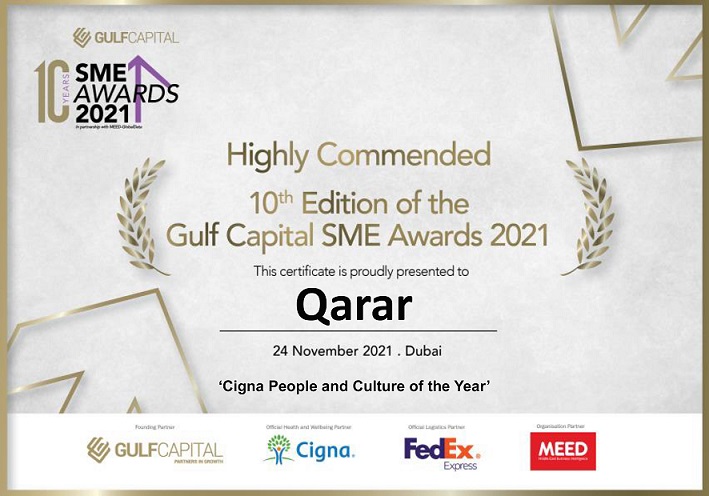 Freedom and choice are important to Qarar
As much as Qarar gives importance to various factors such as productivity and client service, and other HR initiatives such as Learning and Development and Total Reward, we have always upheld the fact that work-life and personal life is inter-related — we cannot separate one from the other.
Qarar has always had a flexible approach to work timings, and the pandemic was the catalyst that shone an even stronger spotlight on this policy.  Our culture has always been based on flexibility and task-management, rather than the standard 9 to 5 time-focus.  The events of recent years forced us to re-think how we work, and this analysis revealed some interesting insights into our workstyles and how we connect and communicate with colleagues and Qarar's partners and clients … where we work … who we need to connect with … and how we connect with them.   We found ourselves embracing Zoom or Teams to provide a communication gateway as we halted our daily commute and embraced a whole new way of working.  What was interesting is, although our office space invaded our homes, we found we still needed the physical office as our anchor.
We value our physical office space — and make it work for us
Our team has been growing steadily over the past year and our headcount has increased by 25%, which had a significant impact on our physical workspace needs.  Earlier this year we moved to a new office — however, rather than taking on bigger office premises, we downsized the square footage of our office space by 25%.  We saved on rent, yet the innovative ambience of the workspace was retained. All in the name of creating a positive working environment.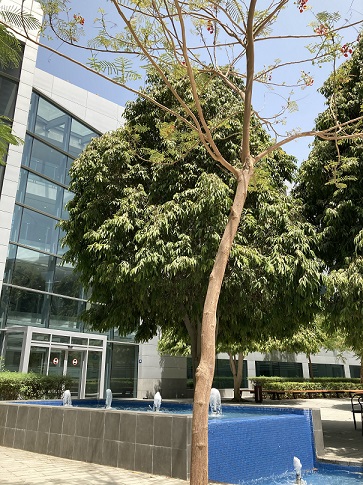 Qarar has fully adopted a hybrid workstyle model where every employee decides their timings with complete ownership and trust, which, as responsible adults, we all want to be entrusted with. This leads us back to the reason we downsized the office. Every Qarar team member has committed to be physically in the office at least one day a week. We have found that no matter how much we connect remotely, nothing can replace the face-to-face interactions, brainstorming a project around a table, or those water-cooler moments of just having a chat with a colleague. Genuine camaraderie at its best! On a practical level, that means we have been able to reduce our physical space needs through hot-desking, limiting physical storage through cloud-based hosting, and providing a variety of workspaces for different tasks, such as the acoustical privacy of phone booths for important client calls. We are taking the interior décor one step at a time, giving everybody a chance to get used to the new layout and hot-desking before we add our splashes of colour!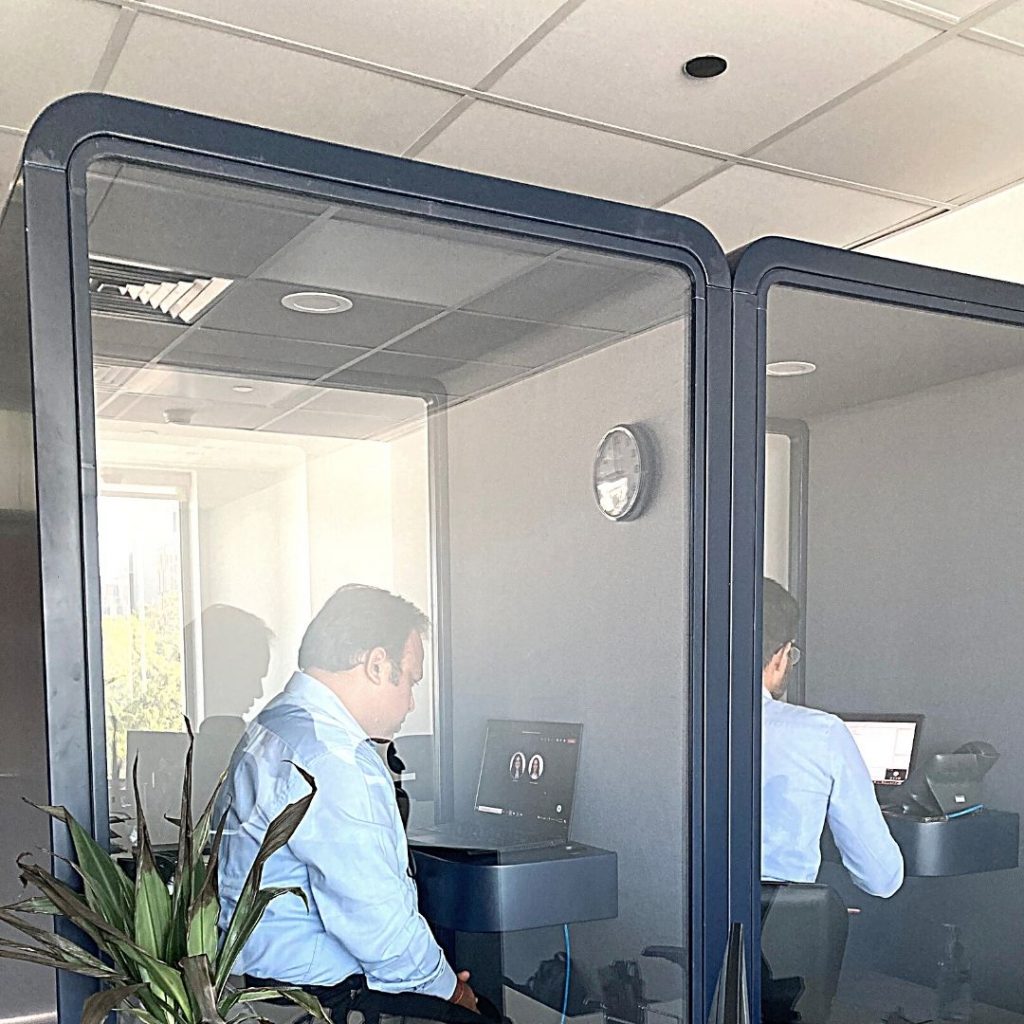 Empowering the Qarar team
One of the ways to engage the team is through our ''vision board''!   Each year we create a vision and manifest of our ideal business success – our clients, skills, achievements, and growth.  Where do we want to be in 1 year … or 5 years from now?  It is a new way of establishing our KPIs and communicating our mission and vision, and is shared at our annual team kick-off meeting, so every employee is fully engaged and committed to our shared goals.  
Another example of putting people first is during our weekly team calls. Sometimes business is put aside, and we have a check-in with each and every employee on the call just to make sure we all OK and an opportunity to either share a joke or even have a rant! It is all about balancing energy and not letting challenges overwhelm us. Inspired by the sacred tradition of the 'talking stick' where holding space for each and every person to has their ''say'', we found our virtual e-sharing circle to be very cathartic and kept the team feeling supported and nurtured during the strict lockdown era. During one meeting, we even attempted a musical play-along and song over Teams! It brought a lot of laughter yet revealed limited musical talent —we learned that we were better sticking to our day-jobs!
Social activities are the norm at Qarar (at least pre-pandemic) — even for no reason than "let's all go out to dinner". Spontaneity is highly encouraged!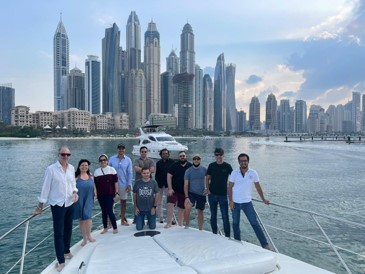 What keeps us on our toes?
The sector and region we operate in means we have to keep up with a fast growing and changing market. We have to be agile — and we are! So, from an HR perspective we are mindful to do what we can to retain talent. At the same, we strive to stay pure and true to our culture. As any SME business knows, once the company starts to grow a solid reputation and commercial success, HR initiatives and rewards can start to drop down the priority list. We at Qarar are consciously mindful to put people's human needs first.
What have we experienced?
We are one of the few companies that have a very low staff turnover — and former employees come back to us! We are also one of the very few companies to offer an unlimited vacation policy. Sometimes it is good to be in the minority! Qarar also actively supports young graduates with internships — and taking them on! In fact, let's have Tarun Pherwani share his internship experience …
A people-centric HR strategy enhances commercial performance
Despite all the challenges — especially in this pandemic era — we have stuck to this region and did not crumble. While international competitors have downsized, we did not even cut salaries. In fact, we took on more people. We are one of only a few companies who are specialised in what we do. Qarar has been self-sustainable since day 1 and, even with limited budget, we were able to create brand equity. We are very proud to have such a dedicated and loyal team who have steadily contributed to building up the company from scratch over the past 8 years.
Our humanistic approach also spreads positive energy. We are sought out by other large companies all wanting to partner with us. We have fostered a unique management approach and culture that has attracted strong talent — even during the pandemic.
To sum it up
In a nutshell, the respect, empowerment, and freedom of choice the Qarar team is given fosters a positive attitude to work — and even greater commitment to our client's needs and ongoing projects, boosting our chances of developing long-term client relationships.
Healthy team. Happy clients. It all starts with putting people first. And that is exactly as it should be!