Qarar Partners with Tarabut Gateway to Revolutionise Credit Scoring and Lending in the Middle East
Partnership to make lending faster and more reliable for individuals and businesses
Dubai, 24 May 2023 – Tarabut Gateway, MENA's leading open banking platform, announces a strategic partnership with Qarar, the region's leading credit analytics technology provider and technology arm of SIMAH, the first and largest credit bureau in the Kingdom of Saudi Arabia.
This strategic partnership is set to revolutionise the financial landscape and pave the way for faster and more reliable lending – by leveraging Tarabut Gateway's open banking solutions and Qarar's expertise in credit scoring and decision automation.
Through this collaboration, financial institutions can offer tailored lending products – catering to the needs of MENA's population.  By addressing challenges faced by individuals and businesses in accessing credit and up-to-date financial information, the collaboration will enable faster and more accurate credit decisions.
The partnership will also drive financial inclusion, contributing to the region's economic growth and development – highlighting both companies' dedication to innovation and their commitment to creating a more accessible, efficient, and inclusive financial ecosystem in the Middle East.
Qarar is a leading advanced analytics and decision automation company in the Middle East, focusing on providing credit scoring, risk advisory, and decisioning solutions.  With its expertise in predictive modeling and advanced technology, Qarar empowers financial institutions to make informed lending decisions, manage risk effectively, and accelerate business growth.
Abdulla Almoayed, Founder and CEO of Tarabut Gateway, said:
"We are thrilled to partner with Qarar, a leader in credit analytics and decision technology. Together, we will leverage our expertise, technology and the power of open banking to help financial institutions offer personalised lending solutions and drive financial inclusion in the MENA region."
Zaid Kamhawi, CEO of Qarar, commented:
Tarabut Gateway provides platform-agnostic solutions for banks and fintechs to build apps, and its user-friendly APIs enable various services such as lending, personal finance, and payments.  The Company is building an open banking infrastructure across Saudi Arabia, the UAE, and Bahrain, with plans for further MENA expansion.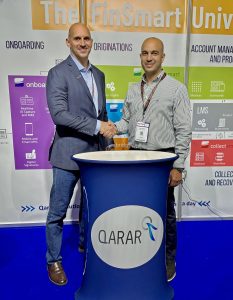 About Tarabut Gateway
Tarabut Gateway is the MENA region's first and largest regulated open banking platform, which connects a regional network of banks and Fintechs via a universal application programming interface (API). By offering tools that allow the facilitation and distribution of personalized financial services, Tarabut Gateway enables financial institutions to build a new world of financial services in MENA.
With offices across Bahrain and UAE, Tarabut Gateway went live with its API infrastructure in December 2019 and is already a dedicated technology partner for the leading banks in Bahrain. In October 2020, Tarabut Gateway expanded its presence in MENA, establishing offices in Abu Dhabi and Dubai. In April 2022, Tarabut Gateway became the first open banking platform to secure AIS (account information services) and PIS (payment initiation services) Category 4 licenses from the Dubai Financial Services Authority (DFSA). The Saudi Central Bank – SAMA – has included Tarabut Gateway among the first participants of its Regulatory Sandbox, in 2022.
For more information visit: www.tarabutgateway.com