Qarar and PMIC Partner to Develop Credit Scoring Model
Qarar and Pakistan Microfinance Investment Company (PMIC) will roll out a credit scoring model for the microfinance sector under PMIC's Challenge Fund-Round II. Qarar is partnering with an MFI and a Credit bureau to access client level date for the development of first of its kind model in Pakistan microfinance sector. Once the application is developed and fine-tuned after testing / pilot, PMIC and Qarar will make it available for the microfinance sector for adoption.
Speaking on the occasion, Mr. Yasir Ashfaq, CEO of PMIC iterated PMIC's commitment to financial inclusion and social impact in the country. Challenge Fund is part of the strategy to build new institutions and models that would accelerate access to finance to the underserved segments of the country The credit scores will reduce human biases in evaluating client's credit worthiness and will incorporate micro and macro level economic indicators in the model. The partnership aims to leverage the strengths of both companies to deliver innovative and integrated solutions that enable microfinance providers to make faster and more accurate credit decisions that will reduce the cost to the clients and reduce risk of the portfolios of the MFI's.
Riaz Jassat, Chief Commercial Officer, Qarar, said "Our partnership with PMIC is a significant milestone for Qarar as we continue to provide cutting-edge software, products, and services for decisioning.  Our innovative solutions are designed to empower microfinance providers in Pakistan, enabling them to make informed decisions and drive positive impact.  We are honored to work with PMIC and, together, we are poised to take a big step forward in our ability to support financial institutions in making smarter decisions and driving sustainable growth in the region"
"We are excited about our partnership with PMIC, as it reinforces our commitment to serving the needs of microfinance providers in Pakistan.  I am proud to be part of this collaboration and we are confident that this initiative will enhance our ability to reach and support more micro-entrepreneurs and small business, contributing to the economic development" added Junaid Khatri, Regional Sales Director, Qarar.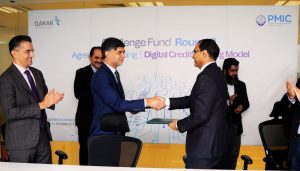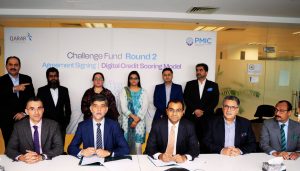 About PMIC
Pakistan Microfinance Investment Company Limited (PMIC) is a triple bottom-line institution, established to provide wholesale financial services to the microfinance sector in the country. PMIC also focuses on improving employment and livelihood opportunities for marginalized segments in the country, especially women and youth.  As of March 2023, PMIC has a loan portfolio of PKR 27.6 billion, deployed through 26 microfinance providers in 90 districts of the country, serving 767,650 clients of which; 85% are women and 62% of the portfolio is deployed in the rural areas.